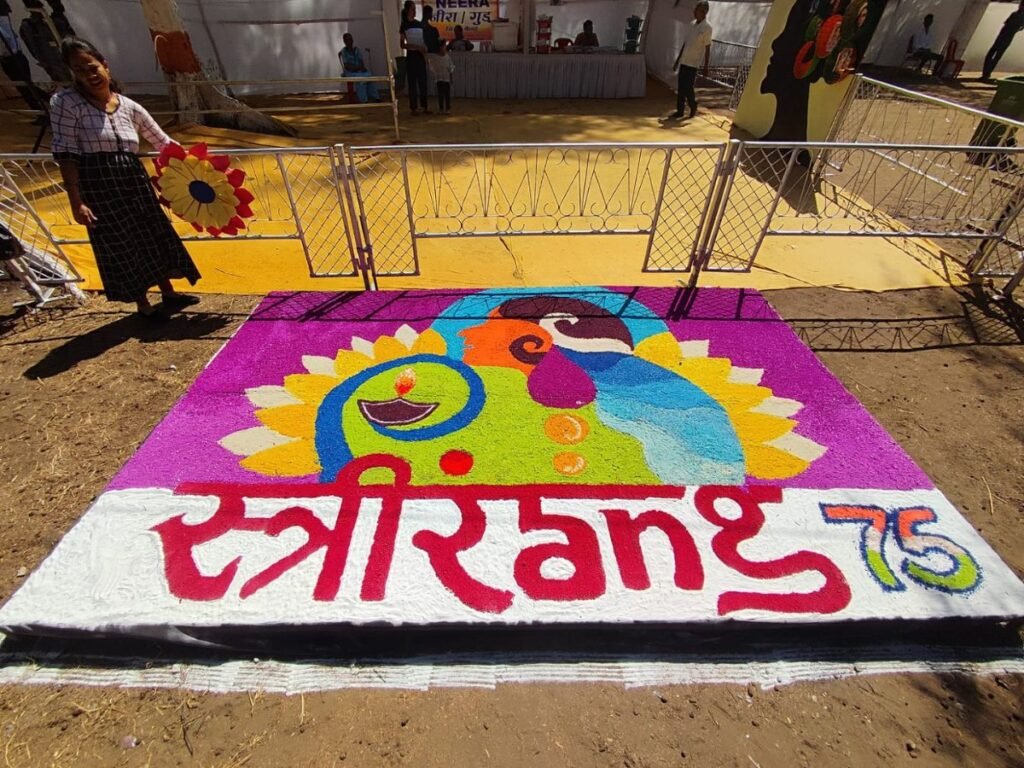 Streerang Festival
The two-day event depicted the local culture and was marked with numerous activities to celebrate and empower local women.
Dahanu/Mumbai (Maharashtra) [India], April 1: After successfully completing a festival last year, Dahanu recently hosted another path-breaking event, 'StreeRang,' on 25th and 26th March 2023 at the Sea View Park, Dahanu beach. The event was a female empowerment initiative collaboratively hosted by the Government of Maharashtra, the local government bodies, Talasari Nagar panchayat, and the Dahanu Municipal Council. 
The event featured a wide range of curated activities, from traditional Maharashtrian female sports to empowerment-oriented activities such as a session on self-defense for women. For the entertainment seekers, there was a glittering compilation of food, music, and fun activities, including water sports such as jet skiing, banana ride, speed boat ride, etc. 
The event took off on 25th March 2023 by honoring several women achievers from Palghar, Dahanu, and nearby areas for their contribution to society and their field of work. Several workshops and sessions aimed at bringing about awareness and access to information for women on diverse topics related to their daily lives and needs. For instance, there was a female physical and mental health awareness workshop on the 25th, followed by a session on self-defense, a cooking competition, and a workshop on 'Connect with Digital World' to familiarize the local women with the digital world. 
On Day 2, the festivities started with a beach cleaning initiative followed by Yoga, Zumba, and Morning Raga activities. A workshop featuring a legal expert was held to familiarize women with their legal rights, and another one discussed entrepreneurship support for women. The day also witnessed fun activities like the Rangoli competition, Mallakhamb, and Gymnastic activities, 'Gappa,' a sharing of personal experiences by women, Antakshari, and a Sangeet Sandhya, to bring the event to a joyful culmination.
Apart from providing a window for business and addressing key concerns of the women, StreeRang also entertained the audiences amply. Over 100 stalls were set up at the event for women to sell everything from food to art and crafts. There was dance, music, and entertainment for women, and they enjoyed it thoroughly with their family and friends.
Speaking about this, Sanjita Mohapatra (IAS), Assistant Collector, Dahanu Sub-Division, said, "StreeRang was conceptualized as a one-of-its-kind event to felicitate and celebrate the incredible talent and effort displayed by women from the region in various walks of life. The curated event has been a fantastic success. It gives us great confidence to work towards making StreeRang, a major platform for women in Palghar and the entire state of Maharashtra. I hope this event will encourage more women to set new benchmarks by benefitting from the takeaways offered during various knowledge-sharing workshops during the event."
Sharing his thoughts, Abhijit Bhausaheb Deshmukh, Tehsildar, Dahanu, said, "It has been a great pleasure for me to be a part of this unique and vibrant event for women. The initiative has truly lived up to its name, 'StreeRang,' as it has brought to light the hats women in the Palghar region and nearby areas have donned over the years. I am thankful to all the achievers and participants, and I wish everyone all the best!"
Vaibhav Aware, Chief Officer of Dahanu Municipal Council, added, "Traditionally, women of the region have been doing excellent work as entrepreneurs, artists, and in various other capacities. Their efforts have been instrumental in keeping the vibrance and social diversity thriving, but there has been no recognition of their contributions so far. Through StreeRang, we have been able to showcase the women from the small towns and villages and to give them a platform to shine."
Adding further, Pallavi Saste and Gath Vikas Adhikari said, "We are delighted to see the success of the 'StreeRang' initiative and the excellent participation by women from Palghar, Dahanu, and nearby areas. It is time that we take concrete steps towards women's empowerment, and this platform has been an apt launchpad for them."
StreeRang was one of the first initiatives for women from Palghar, Dahanu, and nearby areas. The two-day affair is aimed at women's empowerment through networking with each other and sharing expertise on careers, business, health and wellness, entertainment, etc. It offered plenty to all attendees, including homemakers, businesswomen, and those in the formal employment sector. Overall, StreeRang was a complete package of fun and learning in a truly regional style!
If you have any objection to this press release content, kindly contact pr.error.rectification@gmail.com to notify us. We will respond and rectify the situation in the next 24 hours.