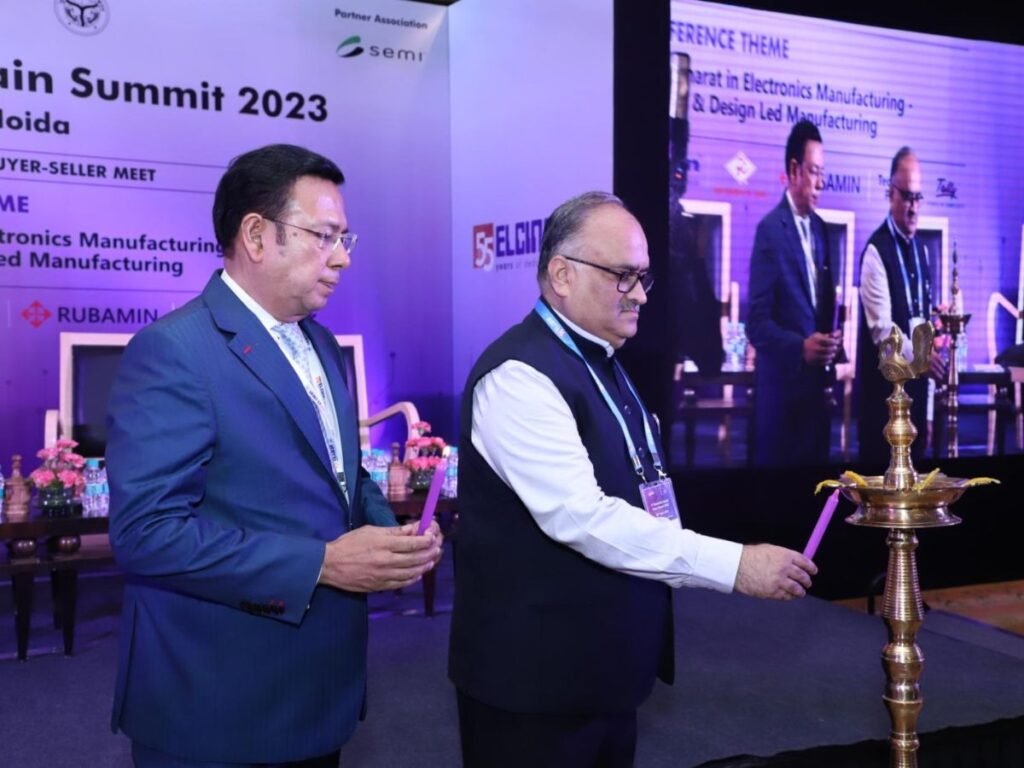 -Aims to strengthen India's roadmap to Aatmanirbhar Bharat in Electronics Manufacturing
-ELCINA recommends allocation of a US$ 10 Bn fund for promotion of Investments in Components manufacturing; US$ 2 Bn for Capital Subsidy through SPECS and US$ 8 Bn for Production Linked Incentives!
Noida (India), May 3: ELCINA organised its 3rd Electronics Supply Chain Summit successfully on Friday, 28th April, 2023 at Radisson Hotel, Sector-18, Noida on the theme of "Road to Atmanirbhar Bharat in Electronics Manufacturing" and received an overwhelming response. The objective of this event is to strengthen local sourcing and value addition, covering among others, mobile/mobile accessories, consumer electronics, CCTV Camera & Security Products, Telecom & Peripherals, Semiconductor Components & Modules and lighting segments of the electronics industry. The Summit consists of a Conference, Exhibition and Pre-arranged Buyer-Seller Meets.
The summit brought together industry experts, policymakers, and stakeholders to discuss the latest developments, challenges, and opportunities in the electronics manufacturing sector. The Conference speakers deliberated on Demand and opportunities in the critical segment of Electronic Components, Key Sectors which were driving demand in India and the roadmap for India's Semiconductor Mission with special focus on Assembly, Testing, Marking and Packaging (ATMP) for realistic build-up of the Semiconductor Eco-System.
Electronic goods have expanded its share rapidly in India's Trade basket becoming the sixth largest commodity group in India's goods exports in 2022-23 and had a share of more than 5 per cent in total merchandise exports. Exports of electronic goods from India jumped 50 per cent in 2022-23―from $15.66 billion the previous year to $23.57 billion. This growth of US$ 8.24 Bn accounted for 33% of the total exports growth of US$ 25 Bn during the year.
Shri. Sanjay Agarwal, President, ELCINA said "A robust supply chain is essential for the growth and success of the electronics industry in India. It helps to meet customer demand, reduce costs, and drive innovation in the sector. With the launch of the 'Atmanirbhar Bharat' initiative, India is focusing on building a self-reliant and robust supply chain that can support the growth of the electronics industry. This includes reducing dependence on imports, increasing local manufacturing, and promoting the development of domestic suppliers and vendors. By strengthening the supply chain in the electronics industry, India can become a leading player in the global market and achieve its goal of self-reliance".
Shri S. K. Marwaha, Scientist G and Group Coordinator, MeitY participated as Guest of Honour during the Inaugural Session and shared highlights about the "advanced Eco-system being established by the Government for enhancing Electronics manufacturing growth and higher value addition. In order to position India as a global hub for ESDM and push further the vision of the National Policy on Electronics (NPE) 2019, special Schemes like SPECS, PLI, DLI were being rolled out with very large budgetary support which would amount to over US$ 20 Bn over next 5-6 years". The Semiconductor Promotion Scheme itself had budgeted almost US$ 10 Bn", Shri Marwah said.
Smt. Asha Nangia, Scientist G and Group Coordinator, MeitY said " MeitY has extended the scheme for the promotion of electronics components and semiconductor (SPECS) by a year, the extension will boost local electronics manufacturing. Also MeitY is working on SPECS 2.0 for further growth on the electronics component ecosystem".
Shri. Atul B Lall, Sr VP, ELCINA and MD & Vice Chairman, Dixon Technologies India Ltd. delivered the Keynote address and stated that "finance was a key element in electronics manufacturing and in recent years, large venture funds and investors had expressed confidence and optimism about the future of the ESDM sector. Finance was no longer a constraint and we had to focus on ensuring profitability and revenue linked support to manufacturers who were competing in the highly competitive global markets." Mr Lall further added, "We are thrilled with the success of our 3rd Electronics Supply Chain Summit which demonstrated the importance of collaboration and innovation in driving progress and growth in the electronics industry."
A few industry leaders among the notable speakers at the Summit were Mr. Vinod Sharma – MD Deki Electronics, Dr Raj Kumar Upadhyay CEO C-DOT, Mr Amrit Manwani Chairman Sahasra Group, Mr Rajiv Ganju, Luminous Power, Mr Neeraj Sachdev, Uno Minda Group , Dr Ashwini Agarwal, Applied Materials, Dr Rijjin John – CEO Coe IIoT, Mr. Richard Puthota, MD, MacDermid AlphaElectronics Solution, Mr. Pankaj Gulati Sr. VP & COO Continental Device India Ltd., Mr. M A Johar, President – CP Plus, and various other prominent industry leaders.
Mr Rajoo Goel, Secretary General, ELCINA apprised participants that "ELCINA had recommended for allocation of a US$ 10 Bn fund for promotion of Investments in Components manufacturing; US$ 2 Bn for Capital Subsidy through SPECS and US$ 8 Bn for Production Linked Incentives. Without such a mega push with schemes which were formulated specially to support large investments in components, this critical sector would not grow to achieve global scale and self reliance".
Mr Goel also "informed the industry about Source India- Electronics Supply Chain Portal (www.source india-electronics.com) launched by ELCINA which is supported by the Ministry of Electronics & IT Govt of India (MeitY). This B2B Portal enables companies to post their products online on which they can receive enquiries and seamlessly connect with global and domestic buyers and support Make in India initiative".
The summit was attended by over 300 delegates from various companies and organizations in the electronics industry, electrical component manufacturers and semiconductors. 45 exhibitors participated in the event with 14 Buyer companies with over 150 buyer-seller meetings. The event was well attended with participants giving a positive feedback.
About ELCINA (Electronic Industries Association of India)
Electronic Industries Association of India was established in 1967 as the first industry association supporting electronics hardware, when India's Electronics industry was still in its infancy. Since then, ELCINA has established itself as an interactive forum for electronics and IT manufacturers.
Our key objective is to promote manufacturing, research & development, higher value addition and business expansion in the Electronic System Design & Manufacturing (ESDM) sector. ELCINA delivers this through knowledge sharing, industry research, policy support and enabling creation of an efficient eco-system in the country. We engage with all stakeholders and the Government and promote B2B as well as B2G industry programs to facilitate the same.
ELCINA actively interacts with the government and advises it on policy and business environment issues. It networks with technical institutions and business support organizations in India and abroad to enable business expansion and information dissemination on technical developments. With greater liberalization, ELCINA's focus has shifted to professional and value-added services to the Electronics Community.
For more information, please contact:
policy@elcina.com
If you have any objection to this press release content, kindly contact pr.error.rectification@gmail.com to notify us. We will respond and rectify the situation in the next 24 hours.