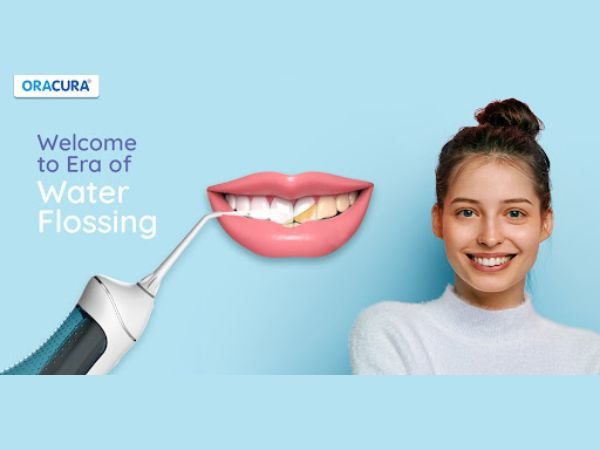 Say hello to a cleaner, healthier smile with Oracura Water Flosser
Mumbai (Maharashtra) [India], February 13: Recent studies have shown that many Indians are missing the habit of flossing regularly. Despite its importance in maintaining oral health, flossing has become a neglected aspect of oral care in India. Some factors that may have contributed to this trend include a lack of awareness about the importance of flossing, discomfort, the difficulty associated with traditional flossing methods, and limited access to dental care and awareness. These factors may have resulted in many people avoiding flossing altogether, which can lead to poor oral health over time. However, with the advent of flossing, it is possible to revive this important habit.
Flossing helps to remove plaque and food particles that a toothbrush cannot reach, reducing the risk of gum disease and tooth decay. It is recommended to floss at least once a day to maintain good oral health. There are relatively few people who use traditional dental floss, and a larger number of people who have either never heard of flossing or are only familiar with it through its reputation.
Traditionally, flossing has been done with dental floss, which can be difficult to use and often leads to discomfort, bleeding gums, and even injury. This has resulted in many people avoiding flossing altogether. Water flossing, on the other hand, offers a superior and easier way to clean between the teeth and along the gum line. According to a recent survey, 60% of the youth is inclined to try on new products and thus contributing the maximum to the overall target audience of water flossers. This can ultimately lead to better oral health for a larger number of people.
Flossing is an effective method to have good dental health. Water Flossing specifically uses a stream of water to easily dislodge debris and promote gum health. The ease of use and efficiency of water flossing make it a great alternative to traditional flossing. Unlike traditional floss, water flossing does not require the dexterity to thread floss between tight spaces, and can be done quickly and easily. As the water flosser aims a stream of water at the teeth, it reaches all the deepest areas of the mouth, resulting in better oral care.
Gum safety is another major advantage of water flossing. Traditional flossing can often lead to injury and bleeding, especially for those with sensitive gums. Water flossing, on the other hand, is gentle on the gums and has been shown to be more effective in reducing gum bleeding compared to traditional flossing.
"We, at Oracura, are deeply committed to promoting the importance of maintaining good oral health. I am thrilled to see the growing popularity of water flossing as a solution for better oral hygiene. This revolutionary method of cleaning between the teeth and along the gum line is not only more effective but also gentler and more sustainable compared to traditional flossing. With water flossing, people can enjoy improved oral health without the added expense of constantly buying new floss or contributing to environmental waste. I am confident that water flossing is the future of oral care, and I am proud to continue leading the way in providing cutting-edge and effective oral care solutions that make a real difference in people's lives." says Sagar Awatade, Founder of Oracura.
In conclusion, water flossing offers a better and more sustainable alternative to traditional flossing. Its ease of use, efficiency, gum safety, and eco-friendliness makes it a great option for those looking to improve their oral health and reduce their environmental impact.
For water flossers, please visit https://oracura.in/
If you have any objection to this press release content, kindly contact pr.error.rectification[at]gmail.com to notify us. We will respond and rectify the situation in the next 24 hours