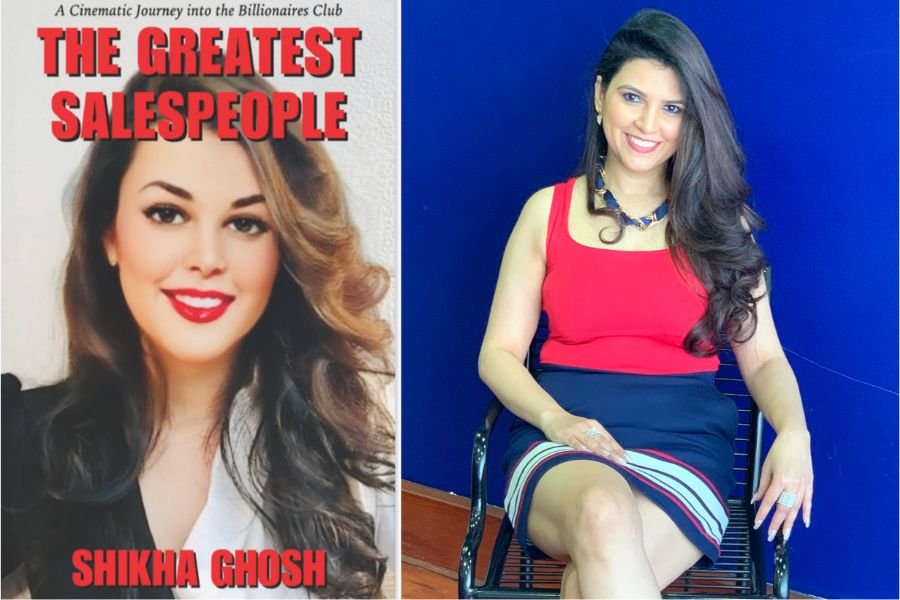 Left: The cover of 'The Greatest Salespeople'; Right: Internationally Renowned Career Counsellor Ms. Shikha Ghosh
New Delhi (India), February 1: From Glamour & Billions to Hard Work & Ethics, 'The Greatest Salespeople' by Shikha Ghosh indeed has it all. The fascinating book about the most important principles of Sales and what goes behind the making of the best salespeople and success stories is in effect 'A Cinematic Journey into the Billionaires Club' as it takes help heavily from the world of cinema. Laced with hundreds of examples from the lives of iconic & inspirational figures as well as some of the most successful movies/movie characters, the book outlines the most important principles of success but is at the core of it all about sales!
Excerpts from the Chapter on ETHICS, INTEGRITY, AND RELATIONSHIP
BUILDING (EQ):
I believe there are three kinds of people, the short-lived successful ones who give up on their dreams too easily, the temporarily successful ones who believe in only shortcuts, and then those whom we all know as icons and who remain successful for as long as they believe in themselves. The difference between these three is the values and principles they hold.
Whenever I hold an orientation session, I make sure to tell in detail about the values that we hold. That our organization is the most ethical and any individual representing us has to abide by these ethics. Selling becomes easy when you just claim and assure anything that a client looks forward to. But, I always tell them to stick by what we are all about and what we can offer. Always under-promise instead of over-promising. Starting from an intern to senior management everyone should know that ethics and integrity are the foundations of a company & leadership and it is uncompromisable.
In every business as well as in life we all get ample opportunities to choose shortcuts. I have no doubt that many entrepreneurs and salespeople face moral dilemmas on a daily basis. Their integrity is tested from time to time. But always remember, the temptation to compromise your integrity and ethics is in your own hands. Giving in to unethical practices might lead to short-term gains but you won't be able to survive in the long run. As an ethical leader or as a salesperson you need to stand up for what you believe in and what is right and not what others want you to believe and is wrong.
For more fascinating tips wait for the launch this Women's Day!
'The Greatest Salespeople' is being released by Daily Indian Media and comes right after the success of their last book, '2047' by IIPM's Dr. Arindam Chaudhuri.
About the author:
Shikha Ghosh is an International Certified Career Coach (ICCC) Masters Level Graduate from NCDA & CDA, USA. She is a Certified Career Services Provider & US Admissions specialist – having done 'Applying to US Universities' from the University of Pennsylvania & being a member of NCDA, USA. She is a British Council-certified and approved counselor for Higher Education in the UK. She has certificates in Negotiation Skills & Leadership from Yale School of Management & Harvard University respectively. She is also a certificate holder in Psychology from Yale University.
In 2009, she took up the challenging role of Chief All India Admissions Counsellor at one of India's leading B-Schools and became the Indian Chief Counselling Representative for The International Management Institute, Belgium. Under her guidance, her team which at one point in time consisted of 1000 full-time career counselors (and in coordination with more than another 1000 counseling agencies) gave counseling to more than 5,00,000 thousand students. She directly counseled approximately 1,00,000 students and gave more than 25,000 admissions to leading Indian and International institutions and Universities and was instrumental in sending an equal number of students to the global top institutions like NYU, Cambridge, Cornell, Darden, UT Austin, Berkeley, NUS, NTU, etc. In 2020 she founded MYOD, a leading Career Counselling company based out of India, and now spends about 75% of her time perusing her passion for career counseling.
Shikha started her career in the year 98, as a Brand & PR Consultant, and went on to become the CEO of ICPAR, the PR division of Planman Consulting. She is the winner of the prestigious 4th Indy's Super Achiever Award-2010, for outstanding contribution to the field of Marketing & Branding. Over two decades in PR & Communications, she has worked on 12 Movies, and many international concerts/events & from Fortune 500 clients.
In 2015 she took over as the President of Sales & Marketing at Daily Indian Media & Power Brands. She has been the guiding force behind Power Brands London International Forum for Equality, Power Brands Bollywood Film Journalists' Awards & Power Brands Bharatiya Manavata Vikas Puraskar.
Shikha is the former editor of Power Women, a quarterly supplement of 4Ps Business & Marketing, Co-Author of 'Indian Power Brands' and the author of another upcoming book 'Cracking the Glass Ceiling in High Heels – A peek into the lives of some of the Most Inspirational Corporate Divas'.
If you have any objection to this press release content, kindly contact pr.error.rectification[at]gmail.com to notify us. We will respond and rectify the situation in the next 24 hours.