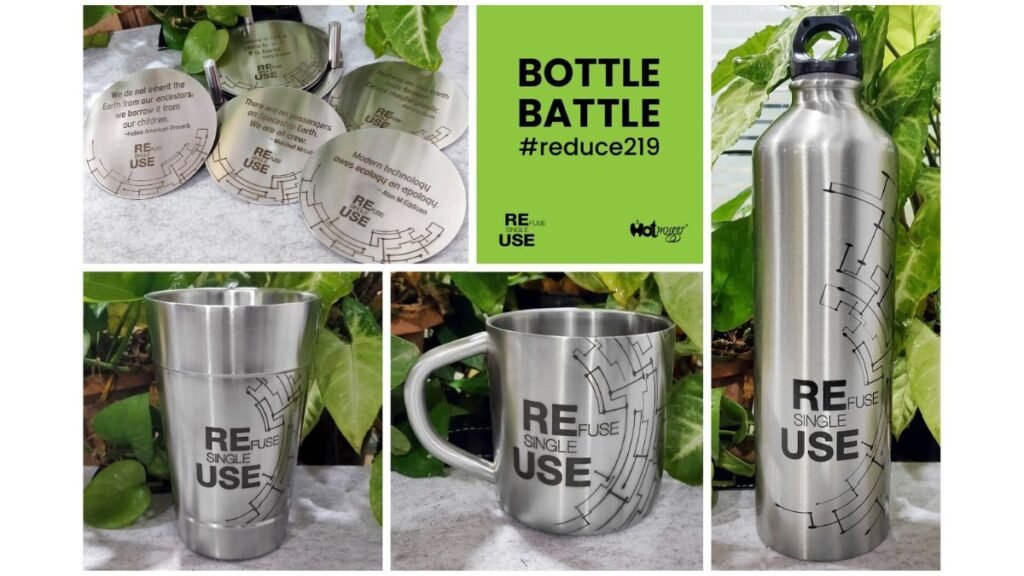 New Delhi (India), April 24: Hot Stuffs, leading drinkware marketers, and Green Lifestyle marketers for `Cause Merchandising', are promoting eco-friendly use of stainless steel water bottles through a campaign called `Bottle Battle – #reduce219' to encourage lesser use of plastics, especially with regard to packaged water plastic bottles and disposable cups and tumblers, reduce this number by promoting the use of stainless steel bottles.
As per a study by the Tata Institute of Social Sciences (TISS), the average consumption of plastic bottles in India is around four bottles per person per week, which translates to about 0.6 bottles per person per day, translating into 219 for the year. However, this is an average and varies widely across different regions and demographics.
The campaign `Bottle Battle – #reduce219' is derived from the fact that more than 30,000 crore single-use bottles are consumed in India alone, which means the per capita consumption is about 219 bottles every year. The appeal is to encourage lesser use of plastics, especially concerning packaged water plastic bottles and disposable cups and tumblers, emphasizing that disposables (used for hygiene purposes) may be convenient, but are not sustainable.
Rajat Jain, CEO – Hot Stuffs, said, "We firmly believe that it is time for a collective effort to reduce the use of single-use plastics and promote sustainable alternatives, and welcome like-minded organization to collaborate with us in the campaign. We advocate the use of reusable alternatives, such as metal straws, cloth bags, and refillable water bottles. We also encourage the use of compostable and biodegradable alternatives wherever possible."
Single-use plastics, such as straws, plastic bags, and water bottles, have become a pervasive and damaging feature of our daily lives. These plastics are used only once and discarded, contributing significantly to the global waste crisis.
The objective is to spread awareness of the harms of single-use plastic, helping to teach a habit in people to reduce single-use consumption that will create a significant and sizable impact over a period of a year and provoke immediate action.
Hot Stuffs have a range of stainless steel bottles under the Hot Muggs brand, offering innovative designs that keep pace with emerging trends and lifestyle. Under Cause Merchandising, Hot Stuffs – with the widest selection of products like mugs, travel mugs, flasks, bottles, and related accessories available under the flagship Hot Muggs brand – will tap its existing distribution network by reaching out to the Online Retail, Modern Retail, Special format stores and so on. In these channels, the company has also planned a platform approach in terms of promotions and activations.
Hot Stuffs has grouped its offering under categories "Mission, Moments & More", committing to not use plastic and other hazardous material, promoting recycling, and responsible consumerism. Their rejuvenated strategy is based on a strong understanding of specific customer needs and segments to serve.
Hot Stuffs has evolved from its initial funky mugs targeted at youth, under the Hot Muggs brand, extended its offering, expanded to drinkware, and has now further enhanced its range to incorporate lifestyle merchandise on the theme of Sustainability (Green Lifestyle). The strategy is to better satisfy customers and group them into distinct segments with everyday needs and expected behaviours of promoting eco-friendliness.
With a team of designers who hail from leading design schools who continuously work on lifestyle accessories that focus on the concepts of attitude and personality, Hot Stuffs has also been involved as the officially licensed merchandiser in the past for many global brands like Disney, Movie Studios like Yash Raj Films, and IPL teams Kings XI Punjab & Chennai Super Kings, and has a fully integrated, self-sufficient manufacturing unit and state-of-the-art tool room for maintenance and design development in Dahanu, Maharashtra.
If you have any objection to this press release content, kindly contact pr.error.rectification[at]gmail.com to notify us. We will respond and rectify the situation in the next 24 hours.