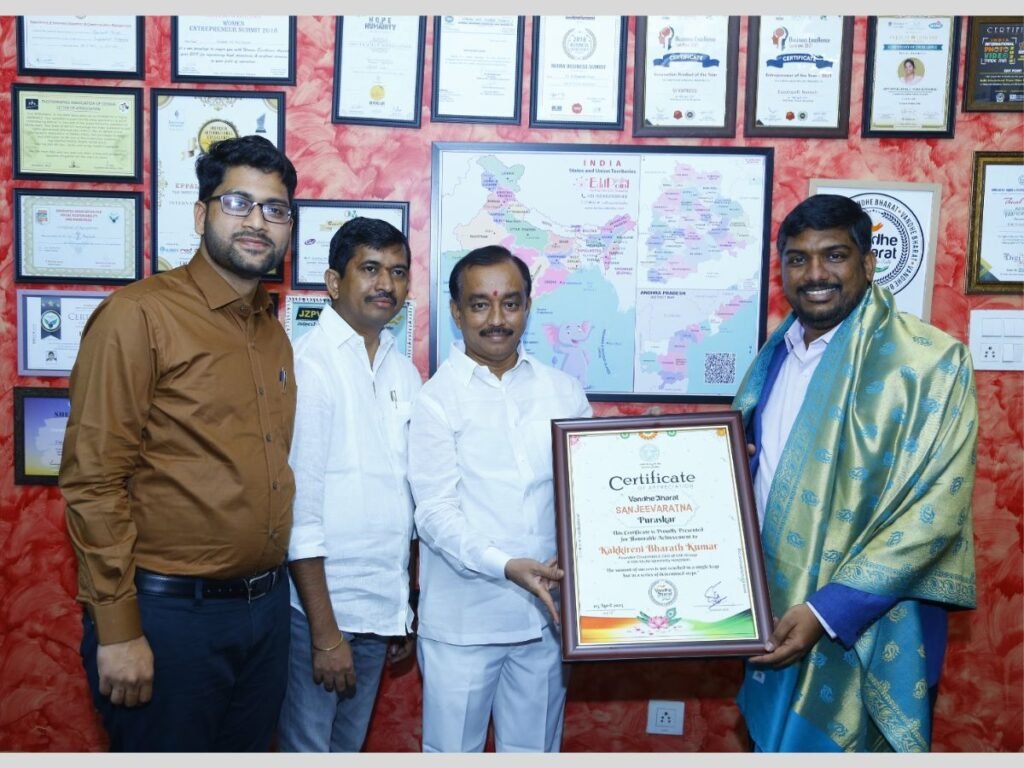 KBK Hospitals Founder, Kakkireni Bharath Kumar, Receives Prestigious Sanjeeva Ratna Puraskar from Government of Telangana & Vandhe Bharath Foundation on World Health Day 2023
Hyderabad (Telangana) [India], April 11: Dr. Kakkireni Bharath Kumar, the founder of KBK Group, was recently honored with the Prestigious Sanjeeva Ratna Puraskar by the Vandhe Bharat Foundation & Government of Telangana on the occasion of World Health Day 2023. This recognition is a testament to the outstanding contributions that KBK Hospitals has made to the healthcare sector.
NIMS Liaison & RMO Officer Dr. Martha Ramesh has honored Dr. Kakkireni Bharath Kumar with Sanjeeva Ratna Puraskar 2023 from Government of Telangana & Vandhe Bharat Foundation at Vandhe Bharat Headquarters.
KBK Hospitals is the brainchild of Dr.Kakkireni Bharath Kumar, it has been at the forefront of providing world-class treatment to patients suffering from gangrene, foot ulcers, burns, and other chronic disorders. With a track record of successfully treating more than 40,000 patients, KBK Hospitals has emerged as a leading provider of specialized care for Gangrene Treatment.
Kakkireni Bharath Kumar's long-standing commitment to save organs has helped save countless lives. His decision to start KBK Hospitals was driven by a chance encounter with a young boy who had lost his organs at a tender age. This led Bharath Kumar to take up the cause of SAVE ORGAN SAVE LIFE, which has become the cornerstone of the hospital's mission.
To further this objective, Bharath Kumar launched the "Save Organs, Save Life" campaign, which offers free tele-consultation services to patients suffering from gangrene, cellulitis, foot ulcers, chronic wounds etc. This initiative has helped reach out to thousands of patients and has resulted in a significant improvement in the quality of care that patients receive.
Through innovative treatment methodologies, KBK Hospitals has been able to achieve remarkable success rates in treating gangrene and other related conditions. The hospital takes a holistic approach to patient care, focusing on delivering personalized treatment plans for each patient. This approach has helped KBK Hospitals establish itself as a trusted destination for patients seeking advanced medical care.
The Sanjeeva Ratna Award from Government of Telangana is a fitting tribute to the tireless efforts of Dr. Bharath Kumar and the entire team at KBK Hospitals. It recognizes their dedication to providing superior healthcare services and their unwavering commitment to the well-being of patients. With this award, KBK Hospitals has reinforced its position as a leading healthcare provider in the country.
KBK Hospitals has recently launched a new program called KBK Sampoorna Arogya Card which provides patients with a range of benefits. This Health card is intended to simplify the payment process for patients by making all medical services available under one roof in multiple cities, providing them with quality medical care at an affordable rate. KBK Hospitals is committed to providing the best possible level of healthcare with a team of experienced doctors and staff members.
In addition to healthcare, KBK Group also provides services in various other industries such as IT Development, Digital Marketing, Hospitality, Events and Catering, Welfare Association and Broadcasting. With over 100 employees, KBK Group is committed to providing exceptional service to its clients regarding all these verticals. Their core principle is to provide excellent customer service by prioritizing a customer-centric approach. Their IT team specializes in providing customized solutions to their clients. They focus on understanding their clients thoroughly, and then offering technology-based solutions that align with their corporate objectives.
Furthermore, KBK Group's KBK Business Solutions Vertical Digital Marketing team works closely with their clients to provide effective marketing strategies and improve brand awareness. They offer a range of services such as SEO, Social Media Marketing, and Content Marketing. KBK Group's hospitality services aim to provide their clients with delicious food and excellent service by offering a wide range of catering solutions to meet the different needs of their clients.
Overall, KBK Group's commitment to customer satisfaction and its focus on providing its clients with exceptional service and quality experience in various verticals is what sets it apart as an outstanding organization.
Dr. Ramesh Eppalapalli (Chairman of Vandhe Bharat Foundation), Nikeelu Gunda (CEO, Digital Connect) have also been present at the award ceremony. 
If you have any objection to this press release content, kindly contact pr.error.rectification@gmail.com to notify us. We will respond and rectify the situation in the next 24 hours.