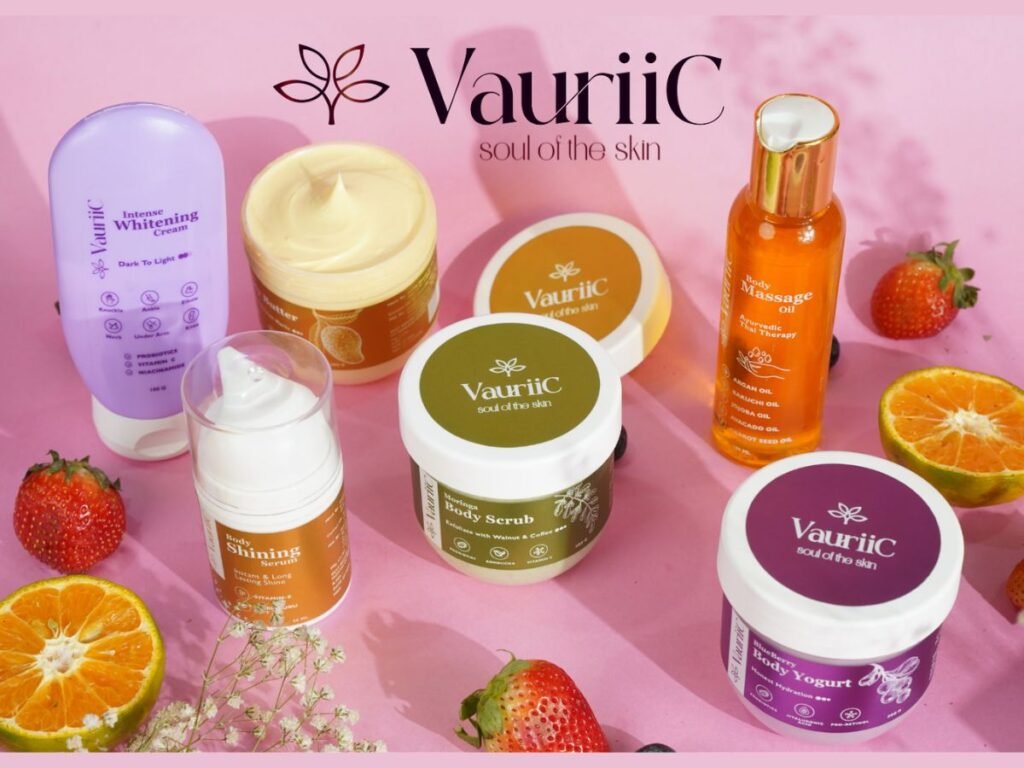 New Delhi (India), February 22: VauriiC, India's First Microbiome-Friendly Vegan Skincare Brand, has recently launched their range of 100% Natural Body Care Products that are sure to revolutionize the way we think about Skincare. VauriiC's commitment to naturally handcrafting products that are 100% Vegan, Cruelty-Free, and NonToxic is what sets them apart from other brands in the market.
VauriiC's newly launched range includes Six exceptional skin care products that cater to every aspect of the body. They are suitable for All Skin Types for both Men and Women.
VauriiC Blueberry Body Yogurt
The Blueberry Body Yogurt is a nourishing and refreshing formula, infused with Probiotics, that leaves your skin soft and supple. It has an Ultra Light-Weight Texture and provides immense hydration to the body.
VauriiC Moringa Body Scrub
The Moringa Body Scrub is gentle and exfoliating that refreshes the body after every bath. Its creamy texture feels super soft to the touch and keeps the skin moisturized. It removes dead skin cells with the power of walnuts and coffee.
VauriiC Body Massage Oil
The Body Massage Oil is a luxurious blend of essential oils that relaxes and rejuvenates the body after a long tiring day. VauriiC's Body Massage Oil ensures to keep the skin nourished and hydrated throughout the day.
VauriiC Intense Whitening Cream
The Intense Whitening Cream can be used on Knees, Elbows, Under Arms, Knuckles, Neck and Ankles to remove dark patches for flawless looking skin. The treatment cream lightens and evens out the skin tone.
VauriiC Mango Body Butter
The Mango Body Butter is rich and creamy that soothes dry, rough, and irritated skin. It is extremely effective for reducing stretch marks and makes the skin truly moisturized and bright.
VauriiC Body Shining Serum
The Body Shining Serum is a game-changer in the world of body care, promising to give your skin a luminous dewy glow. A go to Solution for smooth and shining skin for that Red Carpet Look.
VauriiC's Skincare products stand out due to their all-natural, vegan ingredients. The brand's commitment to avoid toxic chemicals and procedures is a testimonial to its ethos of cruelty-free beauty. VauriiC's products are super healthy, ensuring that your skin receives only the best.
The launch of VauriiC's Body Shining Serum is particularly exciting as it is the First of its kind in India. This revolutionary product is sure to become a Fan-Favourite, promising to give your skin a healthy and radiant glow.
VauriiC's commitment to producing microbiome-friendly products is another factor that sets them apart from other brands. By creating products infused with Probiotics, VauriiC ensures that their customers receive products that are gentle and non-disruptive to the skin's natural balance.
It's worth noting that VauriiC's impressive online presence and e-commerce platform is made possible by the digital infrastructure provided by WapVenture.com. WapVenture is a recognized and leading brand that specializes in building and managing websites for a variety of businesses, including ecommerce platforms.
In conclusion, the launch of VauriiC's new body care range is an exciting development in the world of cruelty-free and clean beauty. With their pledge to use only natural and vegan ingredients, the brand is setting a new standard for what ethical beauty should be. VauriiC is definitely the new age D2C skincare brand to watch out for.
VauriiC's products are available at Amazon, Flipkart, Purplle, Meesho and Lulu & Sky. For best discounts, visit the website.