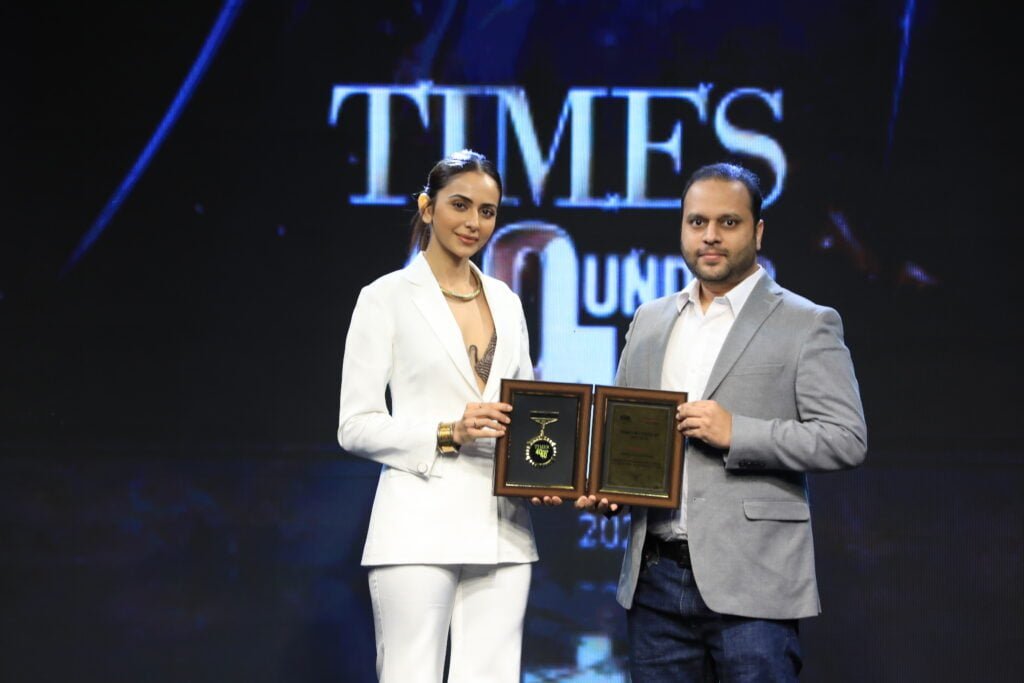 Videogyan and VG Minds's CEO & Co-Founder, Vishal TM, felicitated by Rakul Preet Singh at Times 40 Under 40 event in Bengaluru
Bangalore (Karnataka) [India], March 31: The Times 40 Under 40 honored the achievements of young entrepreneurs, leaders, and change-makers who have made significant contributions in their respective fields. The event was held at the prestigious Hotel Four Season Embassy One in Bengaluru on March 24th, 2023.
Vishal TM, CEO & Co-Founder of Videogyan and VG Minds, felicitated at the Times 40 Under 40 ceremony by the well-known Bollywood actress Rakul Preet Singh.
Speaking after being felicitated, Vishal TM responded, "I am grateful to the Times Group for recognising Videogyan and me and providing a platform to celebrate the achievements of young individuals. Thank you for fostering a culture of excellence and inspiring us to dream big and work hard towards our goals. Your contribution to the media world is invaluable, and I feel privileged to have been a part of it in some small way."
Videogyan and VG Minds are leading the way in the digital content space for children. As the co-founder of both companies, Vishal TM is dedicated to providing high-quality content that is both entertaining and educational for children.
The company specialises in producing informative and entertaining videos for children. They work closely with child psychologists and educators to ensure that their content is fun and provides value in learning and development. Their videos cover various topics including nursery rhymes, moral stories, slapstick comedy and educational content.
While Videogyan creates video content, VG Minds, on the other hand, develops interactive apps to engage and educate children. These apps are built with cutting-edge technology and customised to meet the needs and interests of different age groups. The apps are designed to develop pre-writing skills, early mathematics concepts, listening, reading and vocabulary.
Videogyan and VG Minds have received several recognitions for their contribution to the field of digital content for children. Vishal has been invited as a speaker at many animation, media and education events.
The success of Videogyan and VG Minds can be attributed to their commitment to creating enriching and entertaining content for children. In addition, the company's focus on quality and innovation has helped them to establish a loyal following among parents and educators.
The importance of high-quality digital content for children cannot be overstated, as the world continues to become more digital. Videogyan and VG Minds are at the forefront of this movement, providing children with content that is not only enjoyable but also educational. By offering a unique learning experience for children, VG Minds strives to emerge a leader among early childhood development apps. The wide range of easy-to-use apps which prioritise children's usability and learning are a favourite among little ones and parents alike.
The company's commitment to excellence has led to partnerships with several leading brands, expanding their reach and impact globally. As a result, millions of children worldwide have viewed their content, and the company continues to grow and evolve with the changing needs of its audience.
In conclusion, Videogyan and VG Minds are pioneers in the digital content space for children, providing high-quality, engaging, and educational content that has positively impacted the lives of millions of children worldwide. As the company continues to innovate and expand, its commitment to excellence remains unwavering, and we can expect great things from them in the years to come.
If you have any objection to this press release content, kindly contact pr.error.rectification@gmail.com to notify us. We will respond and rectify the situation in the next 24 hours.