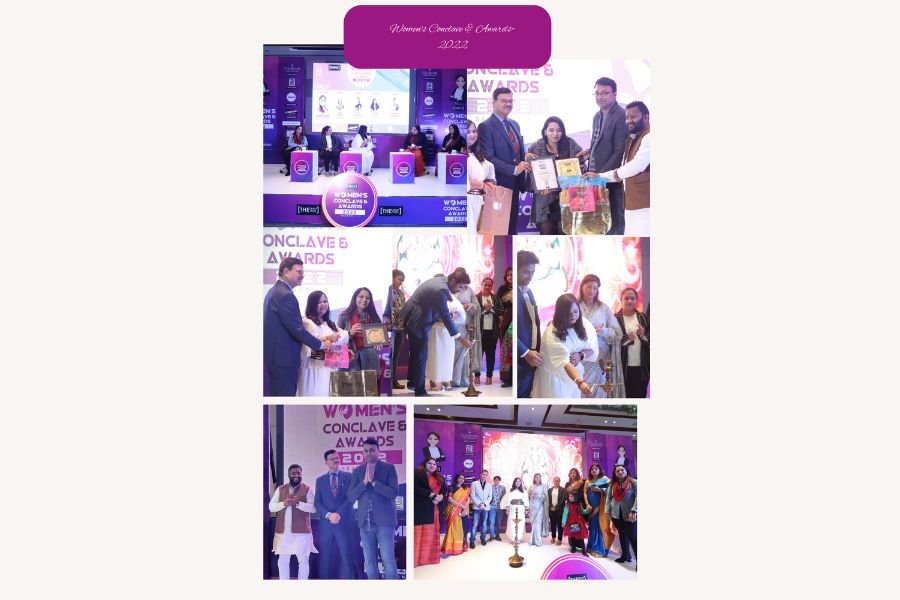 New Delhi (India), February 3: The Crazy Tales, on the 25th of January 2023, organized the 4th Women's Conclave and Awards 2022. The Event was held at Crowne Plaza, New Delhi. The Founders of Crazy Tales, Manish Mishra and Amrita Kar, every year honour Influential women from all over India who have done exemplary work on their own Platforms. The main focus was to create a platform for them so that they encourage women from all over India by this platform.
Women from all across all different sections of India were honoured by them. The event started with the Lamp Lighting Ceremony and the Ganesh Vandana performed by Pihu Tyagi.
The event then has two-panel discussions on women's Security and Women's Entrepreneurship. The Chief Guest for the event was Mla Rituraj Jha and Mla Kuldeep Kumar and Dcp Jitendra Mani Tripathi.  The first panel was attended by Rashi Chabbra, Storyteller from Delhi, Dr. Aditi Kaushal- Founder Dr. Posh. Priyanka Verma – NLP practitioner, and Poonam Kalia – Nutritionist, and the second panel was attended by Anupama Mishra-INVESTMENT BANKER, Neha Nimesh Shah, Founder – Mentor By Board and Vikas Setia- Motivational Speaker and Author, Prof Dr Parin Somani – Educationist and Fashion Influencer. The awardee for the event were- Jyotsna Wadekar Mehta – Best Behavioural Trainer 2022, Ziesha Shireen Aslam – Best Women Entrepreneur 2022, Eeshita Majumder – Best Social Changemaker 2022(Caregiver For Dogs), Niralee Upendrabhai Mankad – Best Emerging Anchor 2022, Manisha Agarwal – Best School Coordinator 2022, Madhvi Dwivedi – Best Women of Excellence 2022 (Education), Shipra Bhadauria – Best Social Changemaker 2022, Nisha Y Prasad – Best Art Therapist 2022, Deeksha Ahlawat – Best Clinical Dietician 2022, Pallabi Hazarika – Best Business Women 2022 (Prajapati Assamese Jewelry), Sananshika Malik – Best Young Emerging Entrepreneur 2022 (Rohansh Publication), Asha Sapra – Best Emerging Business Women 2022 (Fashion & Lifestyle), Priyanka Ambasta – Best Women of Excellence 2022 (Art), Aditi Kaushal – Best Posh Compliance & Legal Expert 2022, Rachna Bhatia (Bhatia Sister's) – Best Social Activist 2022, Dr. Deepti Mankad – Best Marine Wellness Coach & Counselor 2022, Akriti Verma – Best Women Entrepreneur 2022 (Akv Wall Putty), Dr. S. Kanimozhi – Best Academic Mentor 2022, Mehjabeen Irfan Khan – Best Changemaker 2022 (Education), Addlin Sneha – Best Female Entrepreneur 2022 (Scholar Overseas), Deepmala Tardeja – Best Women Entrepreneur 2022 (Deep's Fashion), Dr. Ankita Sharma Pandey – Best Consultant & Trade Expert 2022, Poonam Kalia – Best Nutritionist 2022, Swara Patil – Best Social Contributor 2022 (Women Empowerment), Dr. Glara David – Best Health Counselor & Mentor 2022, Anam Siddiqui – Best Emerging Social Changemaker 2022 (Shikhar Ngo), Anindita Dash – Best Business Women 2022 (Iktaara Handlooms & Handicrafts), Priyanka Verma –  Best Life Transformation Coach 2022, Aparna More – Best Yoga Therapist 2022, Pooja Ghosh – Best Fashion Influencer & Model 2022, Diksha Gupta – Best Social Influencer 2022, Ar. Priyadharshini Thambiraj – Best Women Entrepreneur 2022 (Architect), Dr. Pallavi Chauhan – Best Clinical Expert 2022 (Naturopathy), Jyoti Singh – Best Entrepreneur (Education-  Flora & Fauna),  Namita Sharan – Best Media Expert 2022 (Goa Samachar), Dr. Florence Helen Nalini – Best Women of Excellence 2022 (Philanthropist & Changemaker), Palak Chauhan – Best Women of Excellence 2022 (Author & Changemaker), Neha Nimesh Shah – Best Community Platform (Mentor My Board), Simran Narula – Best Fashion Brand 2022 (AASA BY SIMRAN), Ritika Pathak – Best Digital Marketing Expert 2022, Mini Mehrotra – Best Home Tutor & Educator, Jyoti Praveen Sharma – Best Fitness trainer 2022, Komal – Best Makeup Artist, Karuna Singh – Best Makeup Artist, Upali Prakash Chabra – Best Fashion Influencer & Model 2022, Akansha Khandelwal – Best Young  Wedding Planner (Indore) 2022.
The Event was also supported by The Colorbar Cosmetics Private Limited and Me2 Hair Professional, and Shark Tank Funded Jhajhi Achaar from Bihar.
Cornado was the snack partner for the day. Special thanks to Simran Narula from Aasabysimram, and Richa Sadh was the Makeup Partner for the day.
The Crazy Tales would like to thank all Partners and Sponsors who supported the event.
If you have any objection to this press release content, kindly contact pr.error.rectification[at]gmail.com to notify us. We will respond and rectify the situation in the next 24 hours.