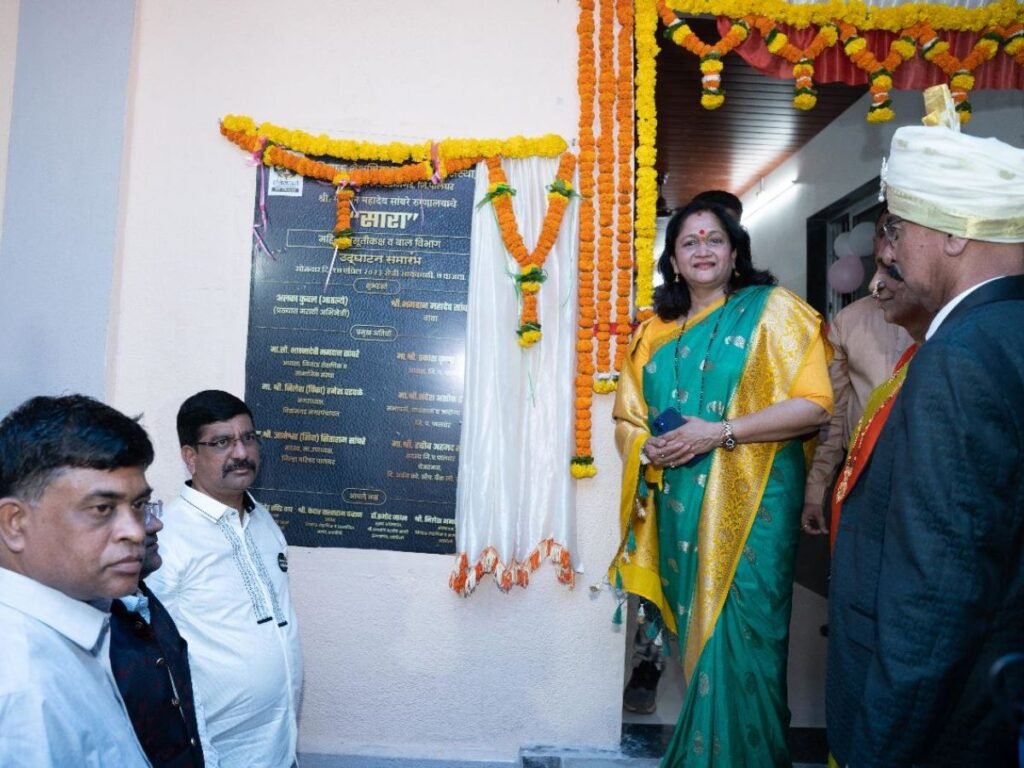 New Delhi (India), April 22: Actress Alka Kubal inaugurated Sara's Maternity Room at the Shri Bhagwan Mahadev Sambare Hospital in Vikramgad on Nilesh Sambare's birthday. The free maternity ward provides medical treatment to underprivileged women who may not have access to proper healthcare facilities.
According to government statistics, lack of treatment results in the deaths of three children daily and one pregnant mother every 15 days in the area. With Sara's Maternity Room's opening, many disadvantaged women can now access the necessary healthcare facilities.
Jijau Sanstha, the organization behind the initiative, has pledged to provide free accommodation and food for expecting mothers before delivery. Actress Alka Kubal praised Nilesh Sambare and the Jijau Sanstha for their contributions to society and their dedication to their cause. She appreciated the foundation's exceptional work to save the lives of those in need.
For the past 14 years, Jijau Educational and Social Sanstha have been conducting employment-prone activities through thousands of women's self-help groups to equip better-employed women under the Women Empowerment Department. The Jijau Sanstha has benefited lakhs of women under the women empowerment department through the Asha home industry in Palghar, Thane, Raigad, Ratnagiri, and Sindhudurg and oriented thousands of women. Garment Factory, Incense Burner Training, Branch Making Training, Rickshaw Training, Mehendi for Women, Yoga, Sewing Machine, Beauty Parlor, Jewellery Making Training, Cooking Classes, etc., have employed women through many means.
Accessible health facilities are provided at Jijau Educational and Social Sanstha, inducted by Shri. Bhagwan Mahadev Sambare Hospital, Zadpoli (T.Vikramgad, D.Palghar), to provide more good facilities to rural patients for free. Surgeries are free, from check-ups for kidney, hernia, hydrocele, all types of cancer, appendix, hemorrhoids, fistula, free dialysis, prostate, gall bladder stones, fissure, etc.
The aim of the Jijau Sanstha is that no patient should die to a lack of health facilities due to financial situation. For this purpose, Shri. Bhagwan Mahadev Sambare Hospital, an accessible, well-equipped hospital, functions at Zadpoli village in Vikramgad taluka of Palghar district, where no government district hospital exists. A well-equipped 100-bed hospital with a 24-hour free surgery facility is an essential base in the area. Twenty-five eye surgeries and ten surgeries for other serious diseases are done free of charge in this hospital daily. State-of-the-art medical services, including a special ward for women and children, cardiac ambulance, X-ray, sonography, dialysis, women's maternity ward Etc. are available. Accident victims, sick and pregnant women are provided services through 10 ambulances in five districts of Konkan.
Hundreds of camps are being conducted annually for women's cancer screening in both districts. Also, women and thousands of cancer patients are successfully treated through Tata Hospital and other hospitals. Financial assistance is also provided to many poor sick patients in Palghar and Thane districts. Thousands of health camps have been organized in five years, and Thousands of people have been treated with medicines. More than 400 health and 200 blood donation camps are currently organized annually. The number of blood donations is constantly increasing, as the organization's volunteers arrange blood urgently whenever needed, whether day or night.
Thousands of surgeries for eye and all other diseases have been done in rural areas. Glasses were also distributed to thousands of patients. Ear machines were provided to thousands of needy patients. Efforts are being made at tribal padas, like nutritious food and guidance to eliminate malnutrition.
https://www.instagram.com/jijausanstha/