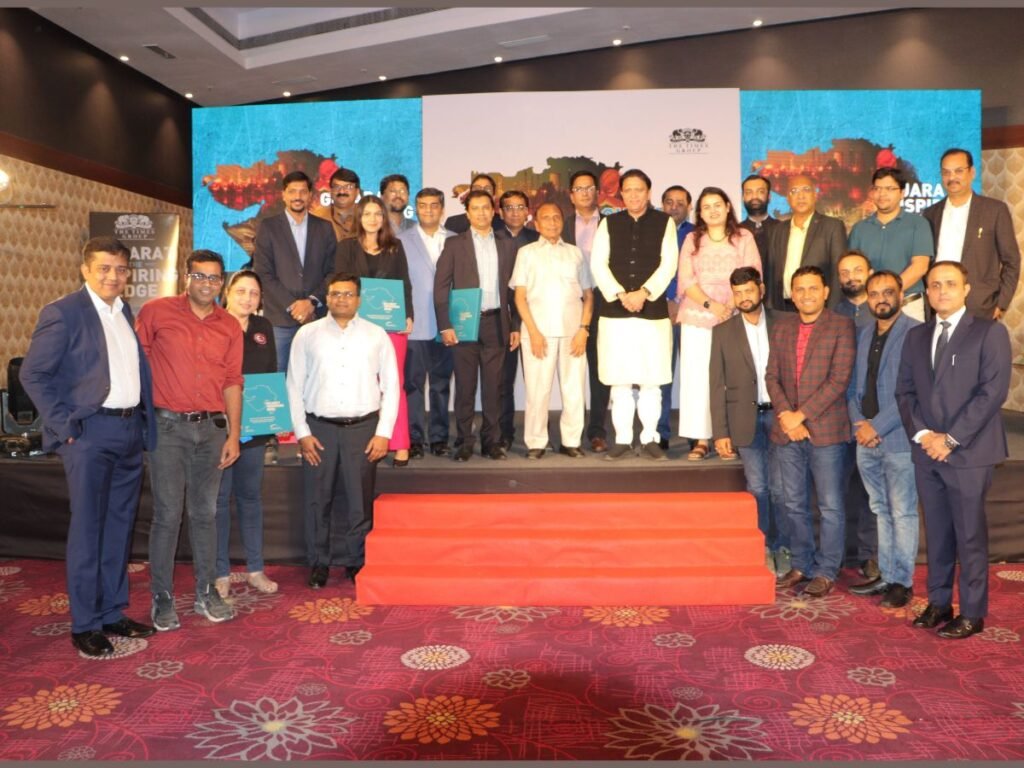 Gujarat – The Inspiring Edge—a coffee table book showcasing the journeys of various entrepreneurs and industry experts from across the state—was unveiled last month by The Times Group and powered by Ranjit Buildcon Ltd.
Gujarat (India), May 3: To know about their foray into their respective business fields, build synergies, and know their innovation, The Times Group launched a coffee table book—Gujarat – The Inspiring Edge—powered by Ranjit Buildcon Ltd. More than a launching event, it was like unveiling the life and journeys of some of the top industrial honchos of Gujarat. The coffee table book reflects on the innovations, business ventures, and prospects of these industrialists.
It isn't unknown to the world how industries are changing the future of a state's economy. From aluminium industry to construction and advanced business solutions, the book has growth stories of a wide range of industrialists based out of Gujarat.
Gujarat – The Inspiring Edge demonstrates what ambition coupled with creativity can do. The profiles demonstrate the remarkable success of the entrepreneurs born out of sheer grit and determination. Such personalities have passionately endured daunting journeys towards a special mission—to serve others—which are marked with compassion, strong work ethics, knowledge, and humility.
Entrepreneurship and being industrialists include living a life differently from others. Entrepreneurs and industrialists shape a state's economy. They create jobs and stimulate innovation without limitations. Hence, driven by their desire to better the world around them, entrepreneurs and industrialists stop at nothing to achieve their greatest ambitions.
Hosted at Hotel Crowne Plaza, Ahmedabad, the chief guest for the unveiling event was the Minister of Industries of Gujarat—Balvantsinh Rajput. Speaking about the growing economic status of Gujarat and how startups are ruling the charts, he said, "It is a matter of pride for me to know that 17 people from Gujarat have been recognised and their journeys are laid out on the coffee table book. This state has grown exponentially. There are varied schemes and projects taken up by industrialists of Gujarat which is helping in boosting the state's economy. This land has also developed as a hub of startups and many young entrepreneurs are coming up with unique brands and products. The government too has set up many initiatives to encourage budding entrepreneurs." The coffee table book gives the readers an opportunity to about various industries, how they work, how that particular industrialist grew et al. Gujarat has been identified as an industrial hub, nationally as well as globally; and the industrialists of the state have a huge role to play behind this success. Hence, their journeys deserve to be narrated.
As far as the flow of the event was concerned, it began with an inauguration by the keynote speaker, followed by a quick detailed review of Gujarat as an industrial hub by the chief guest, and then the unveiling of the book.
Gaurav Patel, the managing director of Ranjit Buildcon Limited, shared, "The launch event was very well-planned, extremely professional and most importantly, happened on time. Even the way the industrialists have been profiled in the coffee table book is brilliant. Gujarat is the growth engine of India and has a lot of potential for industrial growth. I believe it will further grow in the years to come."
An audio-visual clip about all the 17 stellar industrialists ( Ranjit Buildcon Limited, Arfin India Limited, Bacancy Technology, Chandresh Group, Chiripal Group, Edutest Solutions Pvt Ltd, Growit (I) Pvt Ltd, Komal Texfab Pvt Ltd, Lucent Innovation, Multispan Control Instruments Pvt Ltd, Narmada Bio-Chem Limited, Patel Infrastructure, Patels Airtemp (India) Limited, Prozeal Infra Engineering Pvt Ltd, Sneh Academic Services Pvt Ltd, Techify Solutions Pvt Ltd & Lomoso Solutions Pvt Ltd, V & J Furnishings Pvt Ltd ) were showcased before they walked up on the stage to receive the coffee table book. Post the unveiling, another guest, Prakash Varmora, MLA, Dhrangadhra, shared his views on entrepreneurship and startup sector of Gujarat followed by how the state is gradually turning completely environment friendly. He averred, "It was a privilege for me to witness some of the top entrepreneurs of the state and know about their journey at the coffee table book launch. They definitely deserve this space." Thus, the unparalleled contributions made by these icons have been instrumental over the years in providing quality and affordable products and facilities to people across Gujarat and beyond.
Today, the state boasts of several industries administered by highly skilled business tycoons who have earned goodwill and trust for their work. As the name of the book suggests, entrepreneurs and industrialists can inspire many others to get on an entrepreneurial journey. Gujarat is already known to have a wonderful business sector, providing one-of-its-kind products and services. Hence, this state is home to thousands of entrepreneurs and industrialists from various fields who have exposure at the global level.
The industrial personalities of Gujarat are not just proud edifices of the entrepreneurs but also an inspiration for others. The state is making a mark and these ventures are beacons of hope. The Times Group has a long tradition of highlighting such accomplishments.
To know more about Gujarat The Inspiring Edge, visit http://www.gujarattheinspiringedge.com/
If you have any objection to this press release content, kindly contact pr.error.rectification@gmail.com to notify us. We will respond and rectify the situation in the next 24 hours.